Detlef Mehlmann is Managing Director at United VARs, the global alliance of SAP SAP solution providers for the midmarket. With over 70 members in 100 countries, the alliance implements all types of SAP rollouts and integrations across the world.
Detlef lives with his wife in the middle of Germany, between Düsseldorf and Cologne. He is a lifelong football fan and supports his local team, Fortuna Düsseldorf. Detlef loves to ride his motorbike and finds it really helps to relax him. Together with some of his friends, he runs the charity organization, Biker4Kids, that helps families who have a child with a life-limiting disease.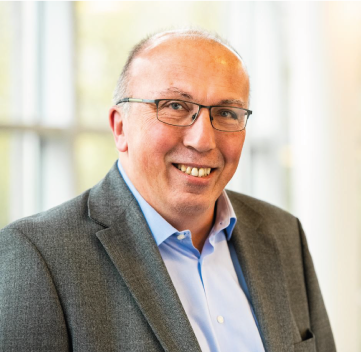 Detlef began his technology career in 1979 when he joined ICI Paints, a Chemical company headquartered in Hilden, as a Logistics Consultant. The organization was one of SAP's first ever customers, and Detlef has stayed in the SAP family ever since; working for SAP partners, customers, and for SAP itself. In 2004, he joined All for One Steeb as a Partner Manager.



Creating a global alliance for SAP rollouts
A year after he joined, Detlef was in a meeting with All for One's CEO, Lars Landwehrkamp, and the CEO from Seidor in Spain, Alejandro Daniel. As the SAP market-leaders in their respective countries, they found they were facing a similar issue. Their customers were expanding into new markets internationally, and asking them to help with the rollouts.
However, both organizations found it difficult to adapt the SAP systems to meet each country's specific legal requirements in countries many thousands of miles away without any local expertise 'on the ground'. As the discussion between the two developed, they realized they could make the whole process smoother and more efficient if they could collaborate with some of the top SAP VAR organizations worldwide. By doing so, they could provide better value for their customers and more easily manage projects across different languages, cultural expectations and time zones.
The two CEOs, Alejandro and Lars, asked Detlef to create an international network of SAP Partners to help each other with SAP global rollouts, and so the United VARs global alliance was born. Since then, United VARs has grown steadily to became one of only ten SAP Global Platinum Resellers.
Collaboration is providing measurable business value
Detlef says, "We're proud of our small but powerful team and happy that everyone genuinely loves working here. We have a relatively flat hierarchy, so can make decisions fast and put them into action quickly. United VARs members charge their SAP consultants at local rates which makes us extremely cost effective for multi-country implementations compared to the large Global SIs (System Integrators). Our members all have a focus on SME customers so they understand the unique needs of small and midsize global organizations".
Detlef continues, "Collaboration is our guiding principle which is why our tagline is 'Stronger than One'. Our SAP VAR members and solution partners can reach new markets across the world by selling their apps and extensions, many of which are featured in our product catalogue, to other United VARs members and their customers.
"We're also supporting our members to extend their collaboration beyond SAP implementations and support to include solution development by running seven 'Centers of Excellence' (CoEs). Each CoE focuses on a strategic topic area such as SAP CX, SAP ERP and SAP SuccessFactors.
"The CoEs bring members together to share their ideas and experience around the common challenges and goals their customers have. Together they develop solutions, Go-to-Market concepts, enablement plans, templates, project documentation and standards which they then share with all the other members in our global alliance. By sharing our collective expertise across 70+ member organizations in over 90 countries, we are providing measurable business value for our members and their customers".

About United VARs
United VARs is a global alliance of SAP solution providers for the midmarket. With over 70 members in 100 countries, the alliance serves all types of SAP rollouts and integrations across the world.