- October 11, Copenhagen, Denmark -
2BM, an SAP IT consultancy company, has acquired SAP-solution architect agency Vision Management and can now provide a complete range of SAP solutions to clients in the private and public sectors.
The acquisition puts 2BM in a whole new league. "You need a lot of competencies before you can call yourself a full-service provider of SAP. But we can now say exactly that with this acquisition. We now provide a complete SAP portfolio to the private and public sector, and the combination of 2BM and Vision Management means that we now offer clients something unique." said Lars Bork Dylander, CEO of 2BM.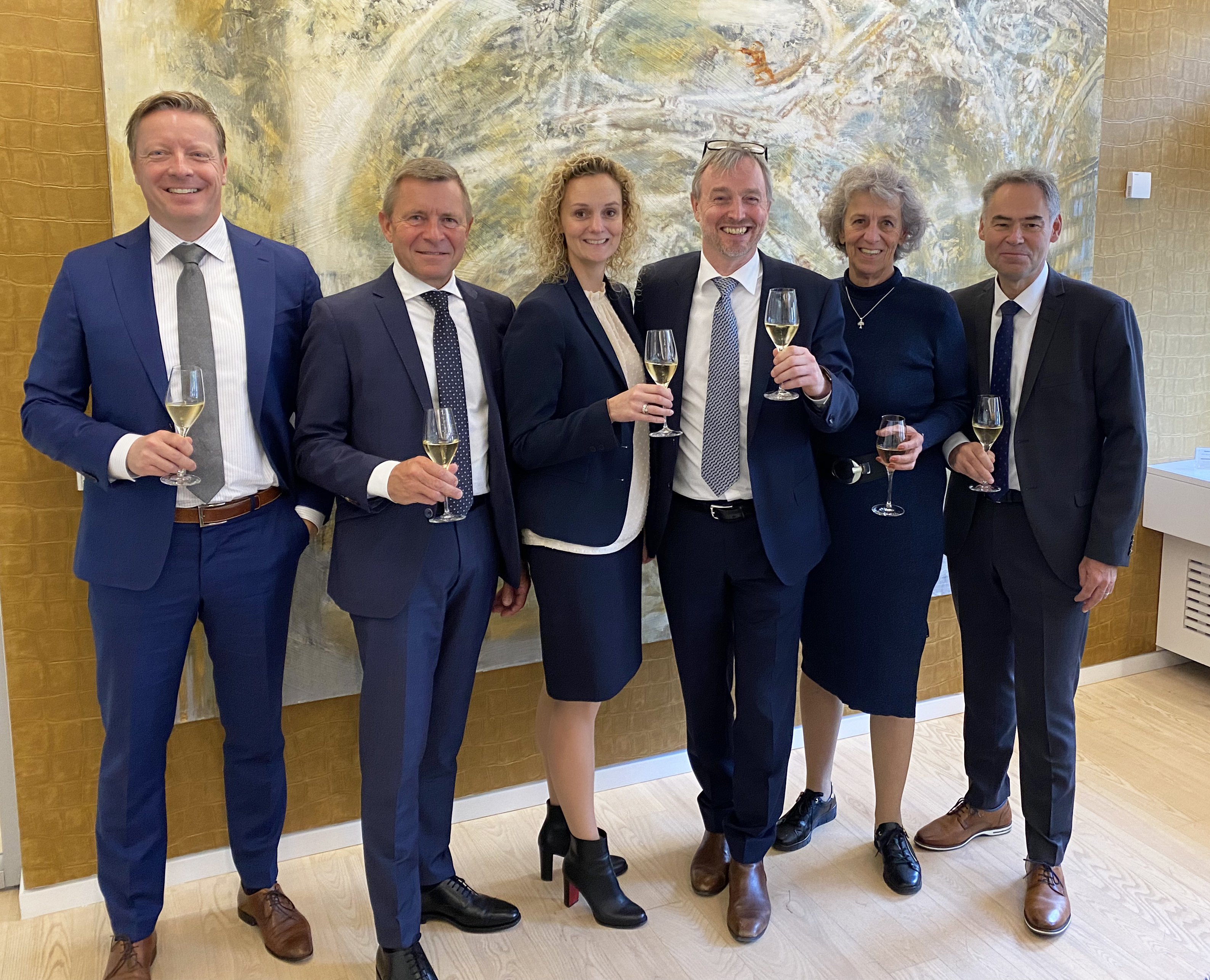 From left: Janus Sørensen, partner at 2BM, Mads Eske Jessen, partner at 2BM, Kristina Zeemann, CEO at Vision Management, Lars Bork Dylander, CEO and partner at 2BM, Ellen Steen-Petersen, SAP Director at Vision Management, Flemming Frost, partner at 2BM
Known as the strongest solution architects

The acquisition of Vision Management strengthens 2BM's position in the Danish SAP market at a crucial time, explained the 2BM CEO.
"We want to be the leading consultant within the major s/4HANA transformation, which will have an impact on the private and public sector in the years ahead. This acquisition strengthens our consultancy business with Vision Management's unique SAP competencies as solution architects in Finance, Logistics, Business Intelligence, and Technology. For a long time, Vision Management has been recognised as a strong player among Danish SAP consultancy businesses and one of the most skilled when it comes to understanding public sector economic models. Vision Management has therefore also been able to provide solutions for a number of major public sector clients," said Lars Bork Dylander.
The balance between full-time employees and freelancers
Lars Bork Dylander also emphasised the strength of Vision Management's delivery model, with many freelancers and Vision Management's well-functioning nearshore centre with application and development consultants in Bulgaria.
"Vision Management have been incredibly skilled at balancing the use of full-time employees and freelance consultants. At 2BM, we have primarily used full-time employed consultants, so these new freelancers strengthen us. At 2BM, our ambition is to be the best SAP Service Centre in Denmark. And here too the acquisition is a brilliant match because we can now offer even greater service capacity and give our clients more nuanced services," said Lars Bork Dylander.
Broader and deeper SAP competencies
Following the acquisition, Kristina Zeemann, former CEO of Vision Management, becomes a partner and owner at 2BM, and a member of 2BM's management group. Kristina Zeemann will be responsible for Public Sector, special clients, the Service Centre in Bulgaria, and sourcing from Vision Management's large freelancer network. She believes the two consulting companies are a perfect match.
"We can now provide clients with a uniquely broad and deep range of SAP competencies, which create value for clients in the complex S/4HANA transition projects that are now arriving. As one single company, we can supply even stronger results and make an even greater difference for our clients in the public sector. At the same time, we can provide our many talented consultants with a broader range of development opportunities," said Kristina Zeemann.
Vision Management capacity continues in 2BM
Employees can look forward to enhanced competencies and increased focus on knowledge sharing because several SAP specialists will now collaborate and inspire each other under the same roof. And among the many Vision Management profiles that will now help 2BM going forward, is Ellen Steen-Petersen, who since SAP R/2 days in the 1980s, has educated generation after generation of SAP consultants.
"Many SAP consultants – including some of our own – have been trained in SAP by Ellen. So, she has huge capacity, and we are looking forward to collaborating with her. This also means that the next generation of consultants will be inspired by Ellen's extensive knowledge and experience, and this will make our solutions in 2BM even better," said Lars Bork Dylander.
An excellent process – now the potential shall be realised
With over 100 employees and a turnover of more than DKK 130 million, and following the acquisition of Vision Management, 2BM will become one of the biggest SAP consultancy companies in Denmark. Vision Management is 2BM's first acquisition and according to Caroline Søeborg Ahlefeldt, chairman of the board at 2BM, it has been an excellent experience: "I want to praise the board of directors of both companies for an excellent and constructive collaboration. It has been a long but very fruitful process, between two companies that liked each other and who stayed focused on the prospect of combining our strengths and bringing the best out in each other. It is a very exciting journey that we have now just begun. I look forward to seeing the potential being realised."
About 2BM
2BM was founded in 2000 with the purpose of supporting quality-conscious private companies and public organizations, primarily with HR and mobile business solutions. Since then, we have grown through solid customer relationships, increased sales, and more employees. In 2015, 2BM chose to implement a number of initiatives that have changed their business from being one of Denmark's and the Nordic region's leading niche companies within HR and mobile solutions to being a major, strategic player and full-service provider focusing on delivery and optimization of business value.

About United VARs
United VARs is an SAP platinum partner, the highest level in the SAP® PartnerEdge® program and forms an alliance of leading IT solution providers to guarantee the best service and support for your international SAP implementations, ERP optimization projects, and cross-border nearshoring. It consists of over 50 market-leading VARs (Value Added Resellers) operating in approximately 100 countries, with 10,000 certified SAP consultants serving over 8,000 customers worldwide. To ensure the best possible service for SAP customers, potential member companies of United VARs must research and consult with SAP to ensure that they are among the best in their region.

Follow Us
https://www.linkedin.com/compa...
https://www.facebook.com/Unite...
https://twitter.com/UnitedVARs
https://www.youtube.com/channel/UC6ZFiH7uNu7pX5U65Mi2bN