- 29th October 2020, Ratingen, Germany -
SOA People and 2BM Software, came together to create a solution for the expeditious reporting of technical problems for any person involved in maintenance and facility management. Each company identified specialties offered by the other that, with teaming up, would help them improve work planning and scheduling directly in SAP, the ultimate aim being to provide the customer with better outputs.
What were these specialties? 2BM Software wanted a more sophisticated reporting process for maintenance, from the identification of a problem on plant, to registering accurate data in the Supervisor's dashboard and SOA People had created its Ready 4 Advance Scheduling product, to support human resource planning and tooling across services, maintenance and projects. Knowing that everyone today is focused on User Experience (UX) when using a mobile app, SOA People could see 2BM's Mobile Work Order Solution offered a very attractive, user-friendly SAP experience, that would make life easier for the next generation of technicians with user-friendly mobile tools.
It was a good match and with both companies being members of United VARs, there was the added trust and confidence in one another.
What changed? Reporting of the maintenance process usually involved eight steps and these were narrowed down to four steps – see the following two graphics: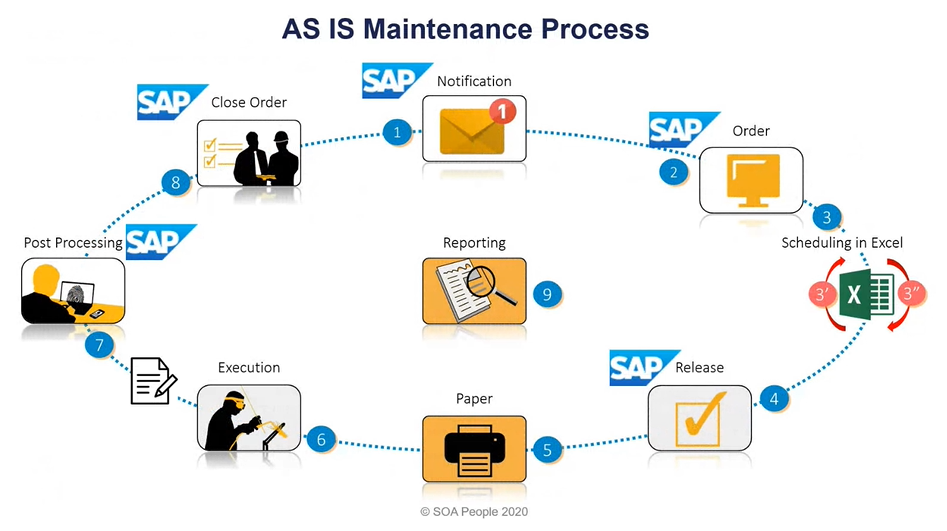 Focusing on a simple and efficient maintenance process, a new solution with a flow of 4 steps was proposed: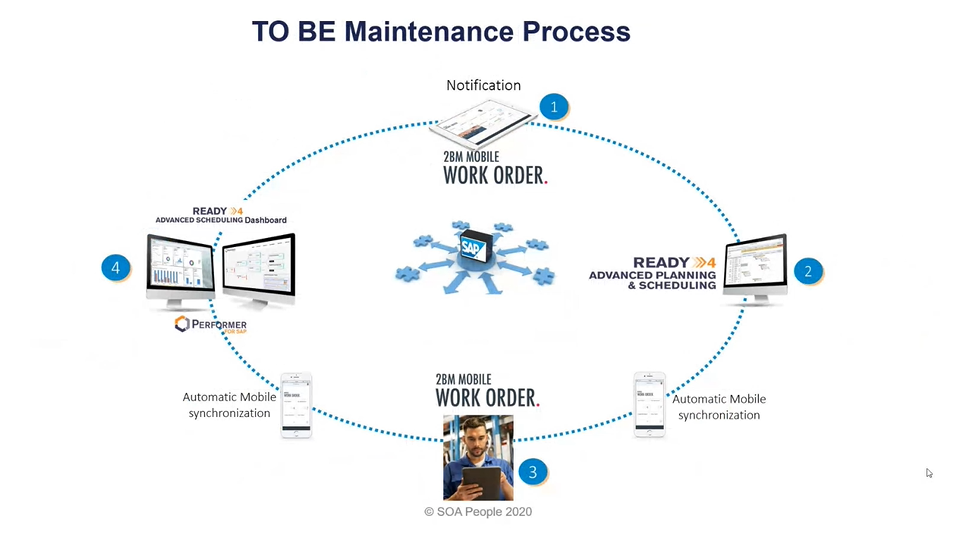 2BM Mobile Work Order - Benefits include:
Being able to use the App anywhere regardless of a network connection. All the changes are locally stored and synchronized to SAP.
No more pen and paper. By taking your work orders digital, information flows instantly between backend system and field technicians.
Reducing travel time by going straight to the work site without having to stoop by the office to pick up papers and instructions.
IoT Predictive Maintenance.
Eliminate errors by having updates from your technicians flow straight into the system without any manual typing and updating.
Documentation via Camera and GPS.
SOA People and 2BM Software are delighted that their partnership adds value for the customer and for the market and this is an excellent example of what a successful collaboration between United VARs members can achieve for a better SAP experience.
Webinar – How to Digitise your Maintenance in SAP for a more in-depth explanation of how they got together to create a mobile solution to digitise maintenance for businesses in SAP, you can listen to Jonas Larsen, expert in adoption of new technology for end users at 2BM Software and to Christoph Labedzki, specialist in planning, scheduling and mobile solutions in the maintenance area at SOA People, for a more in-depth explanation of how they got together to create a mobile solution to digitise maintenance for businesses in SAP.
Check out 2BM Mobile Workorder solution on the United VARs Cataloue:
About United VARs
United VARs is a leading alliance of SAP solution providers for the midmarket. It consists of 50 market-leading VARs (Value Added Resellers) operating in over 90 countries, with 10,000 certified SAP consultants serving over 8,000 customers worldwide. To ensure the best possible service for SAP customers, potential member companies of United VARs must research and consult with SAP to ensure that they are among the best in their region.
Follow Us
https://www.linkedin.com/compa...
https://www.facebook.com/Unite...
https://twitter.com/UnitedVARs
https://www.youtube.com/channel/UC6ZFiH7uNu7pX5U65Mi2bNg