- October 14, 2021, Stuttgart, Germany -
With guests attending the United VARs Annual Meeting in Germany from 20 countries, there was great excitement meeting up with cherished members and partners in person after an unplanned hiatus across the world. Unforeseen events saw businesses move meetings and events online and indeed some guests also participated in the Annual Meeting remotely, an aspect of work that will continue.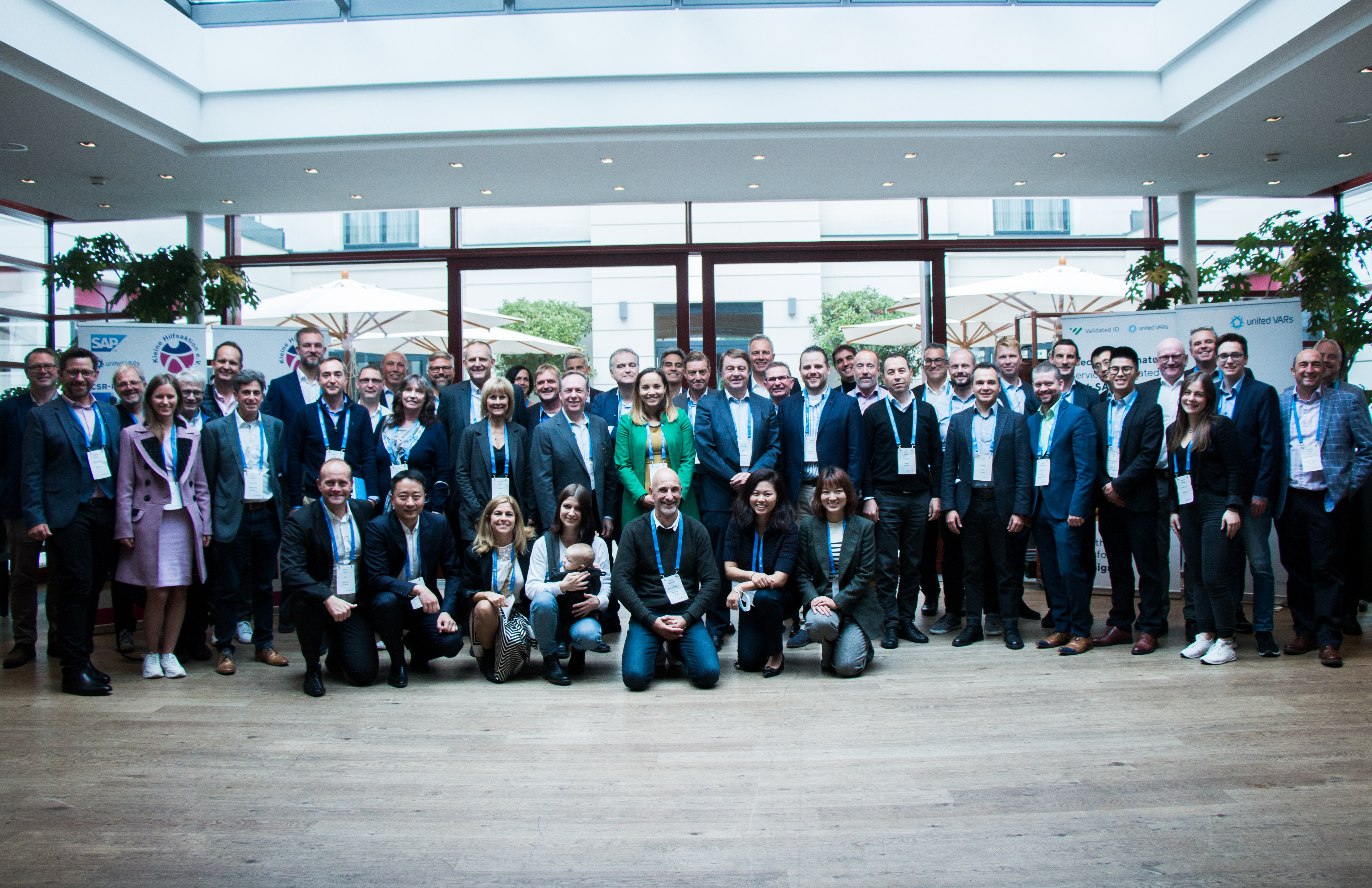 Group Picture
Our agenda was filled with memorable moments, which included:
Opening Speech and United VARs Awards 2020, presented by Detlef Mehlmann.
*New members to the United VARs network were introduced (see below).
SAP PartnerEdge/GPR Updates by Darren Lesniak.
Overview of RISE with SAP was given by Bobby Vetter and Steffen Burger.
Member Customer Success Stories' – by Answerthink, Seidor, Detaysoft, and All for One Group.
CSR project updates were provided by Roland Debschutz from the Kleine Hilfsaktion e.V.: Project WASH, Project Tanzania, and this year, Project Argentina.
After SAP Keynote from Karl Fahrbach, is was SAP panel discussion brought by Claus Grünewald, Steffen Burger, Hans-Georg Uebe, and Bobby Vetter.
Jia(Cjay) Cheng from United VARS Gold Solution Partner, HUAWEI, presented 'Dive into Digital'.
Haodong(Hayden) Huang from Gold Solution Partner, Tencent, gave a Cloud Computing overview.
SAP Partner Business School presented by Manuel Lopez.
Alexander Herfort, Florencia Bicain, Helen Loris, and Carol Li presented the update of United VARs Business development and Marketing Team.
Evening Event at Mercedes Benz Classic Museum.
*New members introduced on stage were Richard Taylor from The Birchman Group and Bill Dunn from Dunn Solutions Group. Remotely connected to the Annual Meeting were AGELESS in Ukraine | Bbeter in Egypt | Cresco in Japan | KBJ in Poland | Uneecops in India | Netizen in Thailand | SAVIC In India | Aclaros in Canada.
In a year that sees United VARs celebrate its 15th anniversary, the group's vision to help customers deal with its business objectives across all of its operations internationally continues to be realised. Our partners throughout the world are helping each other to optimize processes across the entire value chain, with in-country-specific industry knowledge, and therein lies the reason that our network continues to flourish.
United VARs is an SAP platinum partner, the highest level in the SAP® PartnerEdge® program and forms an alliance of leading IT solution providers to guarantee the best service and support for your international SAP implementations, ERP optimization projects, and cross-border nearshoring. It consists of over 50 market-leading VARs (Value Added Resellers) operating in approximately 100 countries, with 10,000 certified SAP consultants serving over 8,000 customers worldwide. To ensure the best possible service for SAP customers, potential member companies of United VARs must research and consult with SAP to ensure that they are among the best in their region.
Follow Us
https://www.linkedin.com/compa...
https://www.facebook.com/Unite...
https://twitter.com/UnitedVARs
https://www.youtube.com/channel/UC6ZFiH7uNu7pX5U65Mi2bN