Fatih İnanç is the Director of Strategic Sales & Business Solutions at Detaysoft. He now lives in Istanbul with his wife and two children: a five-year old daughter and a son who is seven months old. Growing up in a town near Ephesus, surrounded by Hellenistic sites, inspired in him an enduring passion for archaeology and history.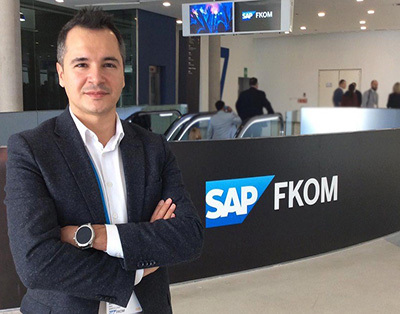 Fatih is also the Centre of Excellence Lead for SAP SuccessFactors at United VARs. He set this up last year to help other United VARs members who want to expand into implementing SAP SuccessFactors HR Cloud solutions. For those already selling SAP SuccessFactors, the Detaysoft Centre of Excellence provides help with pre-sales and marketing materials.
Having specialised in SAP technology and in budgeting, planning and consolidation (BPC) at university, Fatih landed his first technical consultant job at Detaysoft 16 years ago and is now one of their longest-serving employees.
Fatih was the first person with budgeting, planning & consolidation (BPC)-specific skills at Detaysoft and over the years he grew and managed a team of 30 BPC consultants - the largest BPC team in Turkey. After managing that team for 11 years, he moved into a sales role as the Head of Key Accounts and eventually headed up the presales team before becoming a Director.
Fatih says "We've been in business for over 21 years and in that time have completed more than 1,500 successful SAP implementations. Detaysoft now has 500 experts and is the biggest local SAP partner in Turkey. We believe in long-term partnership, enabling our customers to digitally transform and to find new ways of running their businesses better as technology continues to advance".
"Our customers don't see Detaysoft as just a solutions provider. We are more like their own IT department. We take that responsibility very seriously, it's really important to us. Another core value is sharing best practices because we do so many projects in so many sectors as well as the global implementations with other members of the United VARs network. I see Detaysoft like a bee flying to a wide variety of flowers and helping to pollinate them all".
"We have 50 developers dedicated to enhancing SAP technology with Detaysoft intellectual property (IP), developing our own products and software-and-services packages for both cloud and on-premise. Because of that, the Turkish government recognises us as an R&D Centre. We were the first Turkish company to invest in SAP Cloud solutions and this continues to be a focus for us, along with the SAP S/4HANA, the next generation ERP and innovations like AI IOT and predictive analytics.
"We are dedicated to following up new technologies very closely, conveying them quickly to our customers and adapting them to their business processes. We followed the same strategy also for RISE with SAP which SAP recently launched, which is enabling our customers to get everything they need to simplify their digital transformation journey in one bundle".
Although they cover a broad spectrum of sectors, the Detaysoft team has a growing focus on retail and automotive, and has received awards from SAP for several projects in these industries. Last year, they won awards for the best projects in the region, beating other SAP partners in three out of four categories: fastest delivery, biggest transformation and most successful technological transformation.
Detaysoft joined the United VARs network because of its strong reputation for quality and successful collaboration. Fatih says they are proud to be members as they can guarantee to all of their multi-national customers the ability to rollout SAP implementations successfully across 100 countries. Being part of this global network guarantees access to local expertise on tax legislation and other legal requirements which effect how Detaysoft needs to set up SAP technologies in the appropriate countries.
Detaysoft has several specialist software-and-services packages available via the United VARs catalogue. Learn+ enables companies to manage their corporate training programs; Z-Pack+ is an SAP Qualified Partner Package which enables companies to manage budgets from anywhere in the world; and MoveOn! supports phased conversions from an ECC system to SAP S/4HANA quickly with less effort.
About Detaysoft
Detaysoft is an SAP Platinum Partner and the United VARs member for Turkey. Detaysoft has more than 20 years' experience helping organisations to achieve their business goals with SAP technology. It is the largest SAP solution partner with 100% Turkish capital and has 350 active customers. Detaysoft has successfully completed over a thousand SAP projects to date. Its SAP specialisms include ERP and Digital Core, Digital Platform, Supply and Network Chain, Analytics, Customer Experience, IoT and Digital Supply Chain, Human Resources and Finance.
About United VARs
United VARs is certified with the highest SAP status as Platinum Partner and forms an alliance of leading IT solution providers in approximately 100 countries to guarantee the best service and support for your international SAP implementations, ERP optimization projects, and cross-border nearshoring. Are you planning a global SAP rollout? Watch the United VARs video