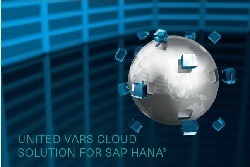 Symmetry to Provide Next Generation, Secure and Scalable SAP HANA Cloud Hosting Services for United VARs Customers in over 80 countries

United VARs, the world's largest alliance of SAP channel partners, today announced it has selected Symmetry as its worldwide infrastructure partner for the United VARs Cloud Solution for SAP HANA®, a globally connected cloud hosting platform engineered specifically for mission-critical enterprise SAP applications. Symmetry brings more than 22 years of SAP expertise to host and manage deployments of the United VARs Cloud Solution for SAP HANA on its expanding global cloud platform.

The United VARs Cloud Solution for SAP HANA will offer its embedded base of over 8,000 customers a cohesive cloud services platform for SAP HANA and SAP applications, including disaster recovery, state-of-the-art monitoring and 99.999% uptime Service Level Agreements. The purpose-built, high-performance cloud architecture provides self-healing features at the storage, compute, security and network levels; a user portal; proactive monitoring of hosted environments; and 24x7x365 global support. With United VARs' and Symmetry's deep SAP expertise, customers can more effectively manage cost and complexity concerns associated with migrating legacy SAP applications to the new SAP HANA architecture and tuning both traditional SAP and SAP HANA environments for optimal performance.
"There are serious capital and operational expense considerations when migrating to SAP HANA on-premise, due to the system's need for a complete hardware and architectural upgrade as well as new management software and skills," said William Fellows, Founder and Research VP, 451 Research. "451 Research believes the cost and complexity of on-premise SAP HANA implementation will accelerate SAP customer migration to the cloud."
The United VARs Cloud Solution for SAP HANA is being deployed on Symmetry's expanding converged cloud infrastructure platform through a network of certified Tier 3 data centers with multi-path connectivity to all major network providers, and built-in flexibility for dynamically allocating resources as needs or priorities change. For United VARs' member companies, this infrastructure helps them drive new revenue streams by adding a global cloud platform option to expand their portfolio of capabilities for a more comprehensive, end-to-end solution aimed at driving customers' migration to SAP HANA.
"The United VARs Cloud Solution for SAP HANA will be a strategic driver for United VARs - providing our 40-plus member companies with the best possible cloud deployment option for SAP HANA, with a cost structure that creates a competitive advantage in the market," said Detlef Mehlman, Director of United VARs and Head of Business Development International at All for One Steeb AG, a founding member of United VARs and SAP Platinum Partner. "This new global solution is also a major differentiator for United VARs – we are now the only organization in the world that can combine the localized expertise of a regional specialist with the global resources of a large consulting company, covering SAP application management and cloud infrastructure. This is a particularly compelling value proposition for international enterprises."
Symmetry has more than 22 years of experience in SAP technical management across on-premise, hosted, cloud and hybrid cloud environments. The company has a strong track record of hosting successful SAP cloud implementations for enterprises across diverse industries including: Steel and Pipe Supply Company, Inc. (SPSCI); Everywhere Global; Karma Automotive; Carlisle Interconnect Technologies (CarlisleIT); and New England Biolabs.
"For SAP customers looking to fully realize the business-transformational effects of SAP HANA, United VARs and Symmetry deliver far greater SAP-specific expertise than can be found with general-purpose cloud service providers," said Kurt Andersen, Chief Marketing Officer of Symmetry. "Over the last 22 years, we have developed a deep understanding of SAP customer needs and a proven track record of managing, tuning and hosting the most complex SAP environments. This experience, combined with a global cloud footprint that can support any business, anywhere, will provide United VARs with a true competitive advantage in the market and a compelling value proposition to their customers."
Learn more about United VARs Cloud Solution for SAP HANA powerd by Symmetry