COVID-19 has affected businesses throughout the world and while work didn't stop, many workplaces did - with employees having to adapt to new ways and methods of working. We were interested to know how United VARs members have been responding to these challenges to support customers, colleagues and communities. It is apparent technology is playing an important role in building the world's business confidence back up again and we would like to share a snapshot of some examples of what members are doing and saying during the pandemic.
SOA People in France wrote "Our focus is to protect our people, customers and partners during this extremely challenging time to and to always ensure business continuity for our customers." – Khalil Hodaibi, Group CEO. As with the majority of companies across the globe, SOA People introduced a work from home policy where possible across the business, with staff available virtually and at their SAP certified 24/7 Service Desk.
Terralink in Kazakhstan lists tools they are using to help remote workforces continue 'as normal'. For employees to adapt to remote working, while maintaining productivity, Terralink believes OpenText Cloud increases resilience and business continuity | Microsoft Teams and SharePoint allows ongoing collaboration and content management | OpenText Extended ECM and Content Suite for information access during widespread home working | SAP HCM systems optimization, SAP Success Factors, Microsoft and OpenText.
Tomas Fertig, President and CEO of Seidor USA says "The reality is that Digital Transformation is not an option anymore. Technology is something that everybody needs to adopt and for good or bad, COVID-19 made companies aware that they need to accelerate certain decision."
In the UAE, Seidor Mena asks "Are you ready for 'All in' transformation? stating that changing and improving technology has become a must, especially after COVID-19 pandemic. To adapt, companies must operate not as machines but with human touch and interaction, purposefully communicating with customers and continuously improving based on feedback. In response to the pandemic, Seidor says that many companies entered new industries, which were not their core business type and that organizations need robust solutions to cater for these changes.
Despite COVID-19, SERVE Consulting in Nigeria has again been awarded the SAP Partner Centre of Expertise (PCoE) Certification for another two years, demonstrating leadership in the provision of SAP Consulting Services to clients across West Africa.
Sofigate in Finland wondered what to focus on during an unexpected time like the Corona Outbreak? Similar to other UVAR members, they believe COVID has caused the whole world to set policies and restrictions at incredible speed, forcing companies to act fast to secure business continuity. Sofigate is making sure its employees can continue to work efficiently from home, enabled by technology.
AXXIS Consulting in Singapore believes that in order for SMEs to remain intact and resilient during the Coronavirus pandemic, digital transformation is critical. Integration business management software like SAP Business ByDesign has become an important player for SMEs to remain competitive and better serve the customer.
BCS Business Consulting Services in Hungary released a statement advising that for the safety of BCS employees and the assurance of operations, some staff is working remotely with full access to all BCS email communications and all information systems. "Throughout the ordeal, BCS has been fully functioning and has been designated by the Dept of Homeland Security an 'Essential Critical Infrastructure workforce member."
Ctac in the Netherlands has a new employee who recounts her impressions as a remote worker. "It does feel strange that I'm unable to go into my new office. Nor can I spend the commute preparing for the day or winding down at the end. I can't see my new colleagues in person or shake their hands. Many of the rituals normally associated with joining an organisation can't happen or need to happen in a new way, that does not (yet) feel natural. The boundaries between my work life and my private life have blurred somewhat, because as a new employee, I am keen to prove myself and do well." – Mirja den Reijer Mirja goes on to give useful tips on how to counter working in isolation.
INCLOUD Solutions in the UK asks how businesses can prepare for the Future Post Covid-19 and what changes must business make. Looking at business choices, InCloud feels that every business that wants to return to growth will need to make some important choices. They include a quote by Susan Galer of SAP "Companies (have been) reprioritizing anything that supports remote work, like ecommerce to bring food and supplies to people who can't leave their homes. They've also realized the need for more visibility across the organization to manage disrupted supply chains, urgent workforce shifts, and lightning fast financial urgencies." They add that 'Remote is working' and remote implementations are becoming the new norm and that companies can build a strong business base with cloud ERP.
Caring
MIT in Myanmar has donated 9,615 masks and 151 PPE suits to the Emergency Department of Yangon General Hospital to help prevent the spread of COVID-19.
QZing Tech China (formerly Neusoft Medical Systems) has adapted the strapline 'Caring for you by staying with you'. QZing credits the integration advantages of its globalization layout, seamlessly linking up transportation, installation and training to support local customers fighting against the pandemic.
Virtual events
Naturally, many annual events have had to be postponed, including Process Partner AG Switzerland's Info Focus Day and their HCM Focus Day 2020, both being an integral part of the company's annual calendar. The continuing health threat from COVID19 "prevents a carefree and risk-free execution of these events". In its place a virtual SME Forum will take place over ten days between 12 and 27 November 2020 and will focus on a specific topic relating to digitalisation in small and medium-sized enterprises.
Soltius in Indonesia held its first ever Virtual General Meeting in May – see below image. "Thanks to Technology, we can still bond together as one family. On this challenging situation, we are fully committed to delivering our best service to our clients. Together we can overcome this challenging time!"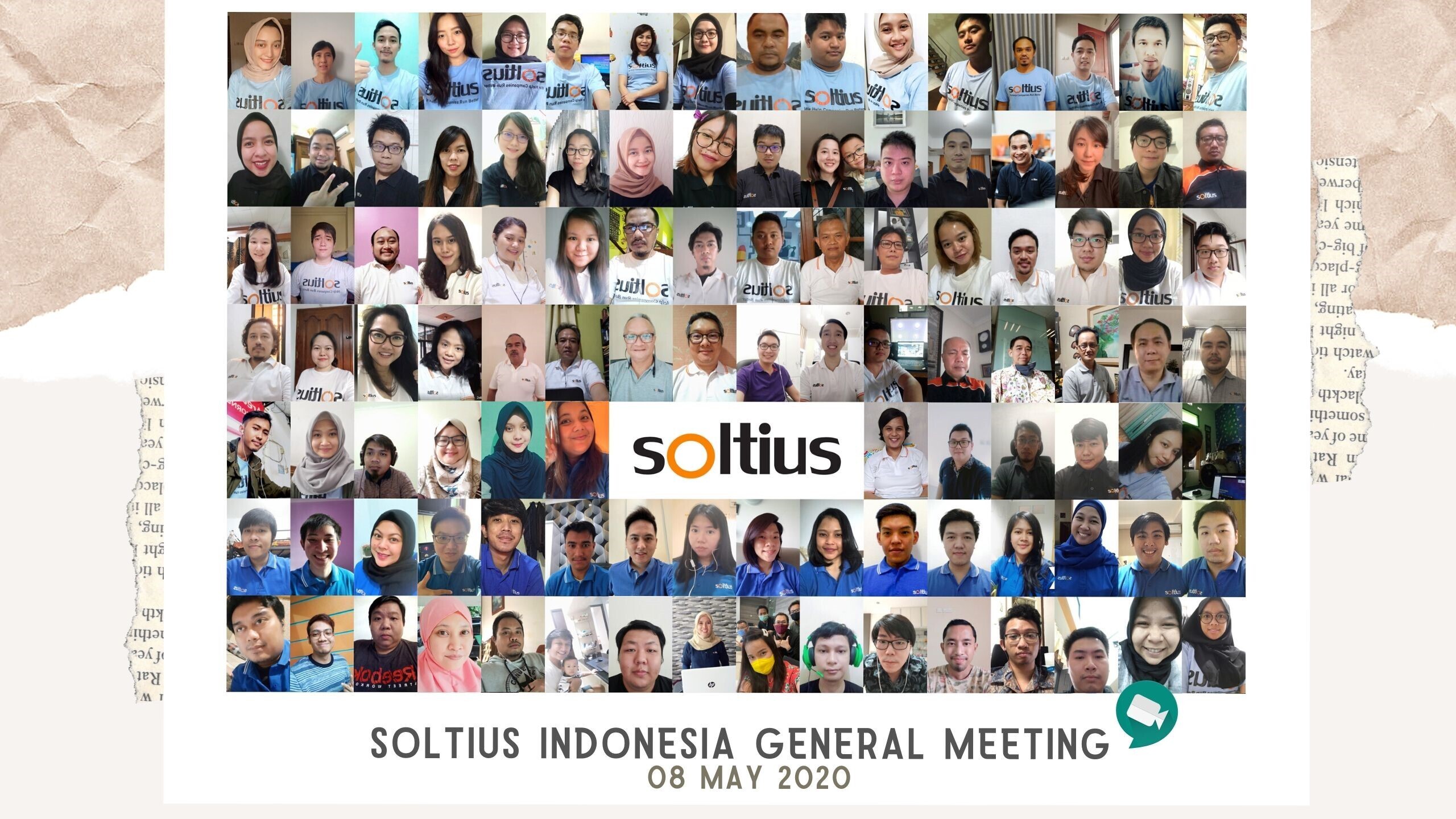 Implema in Sweden has also chosen to develop its Implema Inspire into a digital event on September 17 2020, with the theme: future proof your business! focusing on business systems and digitization, based on SAP and Microsoft Dynamics.
OSC Smart Integration in Germany is running online courses for their community on many topics, without having to leave their workplace or home office. The training camp is aimed at SAP Business One customers who want to develop SAP functions themselves | Experienced customers who need support in specific modules | New employees who need to get involved after the ERP introduction | Interested parties who are interested in a first insight into basic processes before making an investment decision about SAP Business One (basic courses).
To conclude, it is recognized that each business faces its own unique challenges and that companies are working to help their communities do the right thing to mitigate risk through social distancing, whilst building confidence in interacting. It may not be the old normal, but it's a new normal that helps businesses rebuild.
Workplaces of all types exist to support customers, colleagues and communities, and through innovative and responsible use of technology and digital transformation, United VARs members are demonstrating they are being safe, and crucially, feeling safe means digital technology can help people across the globe maintain business continuity.