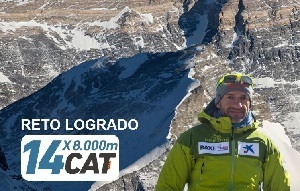 Taking the SAP HANA platform to Mount Everest / World's biggest and most innovative SAP reseller alliance unites local strengths with global scale / Enhanced local presence amid the global growth centers of Southeast Asia / 860 new SAP customers / Strongest performing SAP global platinum reseller

Filderstadt, Germany 28 June 2017 – Ferran Latorre seeks new heights in his quest to be the first Catalan mountaineer to climb the Earth's 14 highest peaks. And naturally, without supplemental oxygen. This avid, extreme climber has already scaled thirteen mountains higher than eight thousand meters. And to make sure that the final and extremely difficult stage of »CAT14×8000«, the code name he's assigned this mission, succeeds, Latorre will be wearing a digital assistant on his hand for the very first time. This entirely new type of status tracker is packed to the hilt with sensory technology. Latorre will be connected to the SAP Cloud platform every step of the way on his planned conquest of Mount Everest. Key data, including vital signs, location, temperature, wind speed, air pressure, oxygen content and much more will be determined in real time and accumulated into a roadmap, or digital mountain guide, which continuously recommends the most advantageous strategies. The app, device and data model were, by the way, all developed in the innovation lab of the United VARs partner Seidor S.A., Barcelona/Spain.

Successful digital strategies arise where the right minds have gathered together – a circumstance that holds just as true for ascending Mount Everest as it does for United VARs. And so today, the world's biggest and most innovative SAP reseller alliance operates using a unique sharing economy model that has been in place for over 11 years. »Digitalization is taking us to new heights and moving globalization forward. SAP S/4HANA places an entirely new generation of enterprise software at the world's disposal. More and more businesses are making the most of this opportunity and securing for their SAP projects that extraordinary combination of global connectivity and local roots that distinguishes our United VARs partners«, explained Detlef Mehlmann, Director of United VARs and Head of Business Development International at All for One Steeb.
»United VARs partners acquired 860 new SAP customers in 2016 – all running SAP HANA. This is why we, with altogether 10,000 SAP consultants serving more than 8,000 clients on site across the world, are considered the strongest performing partner among what are now nine SAP global platinum resellers«, added Alejandro Daniel, a United VARs director and Deputy General Manager at Seidor. As the digital core, SAP S/4HANA empowers companies to better master digital transformation, implement innovations with greater speed, precision and security, and more efficiently expand their global businesses.
High atop the United VARs strategic agenda is the expansion of its local presence within the many up-and-coming economic regions in Southeast Asia. ETC Technology Systems, Hanoi/Vietnam, Fasttrack Solutions, Makati/Philippines, ISS Consulting, Bangkok/Thailand and ISS Data/Singapore are the four new United VARs partners that were recently given a hearty welcome at SAP in Walldorf/Germany. Here is where the 40 partners from 80 countries gather once a year for the United VARs annual conference. It was for this impressive performance that United VARs was recognized in mid-May of this year with a 2017 SAP Pinnacle Award, the first time the alliance has earned one. These global awards are reserved for leading SAP partners that have excelled in developing and growing their partnership with SAP and in turn helping customers run their business better and more successfully.