It is good tradition that all United VARs members come together for almost a full week every year to exchange information, receive the latest news from SAP, make important decisions or just network among each other and people from SAP. This year the meeting was hosted again from SAP in their headquarter in Walldorf, Germany; it took place from April 24 – 27.
More than 120 attendees from 38 countries made this event non-forgettable and extremely valuable for the United VARs community. Many people from SAP's top management team joined over the days, either with a short presentation or just to say "hello".
Stefan Höchbauer, President of SAP Middle & Eastern Europe, kicked off the event highlighting the essential role of partners in the global strategy of SAP. He also confirmed the importance for SAP to position itself as an innovation player guiding the customers for their digital transformation.
On the second day Rodolpho Cardenuto, President Global Channels & General Business, presented SAP's highlights for Q1/2017, which again showed an impressively growth. He also confirmed that SAP's message "Partners first" is not just a slogan, but a strong commitment from the CEO to each SAP employee on the street.
Finally, Hernan Marino, COO & Global Head of GC&GB Marketing, explained the marketing journey and SAP's efforts in the General Business. He showed some exciting campaigns from United VARs partners and invited United VARs as a global organization as well as each single partner to join the next generation of SAP's Live Business using the Digital Marketing Resources offered by SAP.

Together with the Directors from United VARs Rodolpho Cardenuto celebrated the winners of the United VARs Partner Awards:

Seidor Mexico received the award as the best performing partner, category "Cloud"
Detaysoft from Turkey received the award as the best performing partner, category "on Premise")
ISS Consulting, Thailand was awarded as the best performing newcomer in 2016.
But it is not only information and networking. United VARs as a legal entity needs also to report to its shareholders and to ask for important decisions. This Members Assembly, traditionally held during the last hours, discussed and approved some strategic topics:

To strengthen the position of United VARs especially in Asia Ronnie Sung from Dynasys (Hong Kong) will join the Board of Directors together with Detlef Mehlmann (All for One Steeb, Germany), Alejandro Daniel (Seidor, Spain) and John McGrath (Answerthink, USA).
As a successor of Michiel Ramakers (Ctac, Netherlands), who left Ctac and therefore also United VARs, Vincent Simioni from SOA People was elected for the Supervisory Board.
The visibility and awareness from United VARs globally is a fundamental key to success. It was unanimously decided to hire a dedicated marketing resource for United VARs immediately.
In exceptional cases, when an existing partner of United VARs does not deal with a SAP product which is seen as strategic in that country, United VARs will allow a second partner in that country to join the community. The existing partner will be involved in the selection process very close.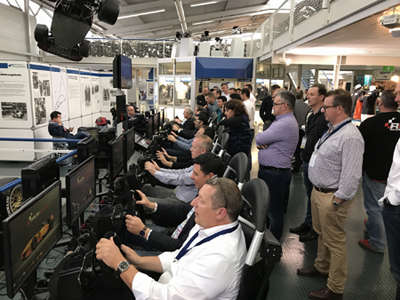 Thanks to HUAWEI for sponsoring the evening events, which took us to the Hockenheim Arena and the Technical Museum in Sinsheim. It was a great opportunity to network and to relax from the various impressions and information.