Lukas Kerschbaum is the Managing Director of B4B Solutions, a full-service CX provider for the main German-speaking countries. B4B Solutions enables its customers to provide superior omnichannel experiences in the B2B (Business-to-Business) space — from lead generation through to purchase, maintenance and after-sales. The company has created several add-ons to enhance SAP CX solutions.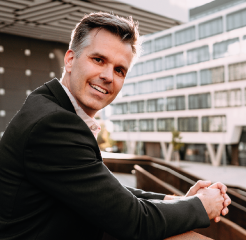 Lukas lives near Vienna, Austria with his wife and three daughters. In his spare time, if he's not fine-tuning the treehouse he built for his girls, Lukas can be found on the golf course or tennis court in the Summer and skiing in the Alps during Winter.
After studying economics and computer science in Vienna and New York, Lukas saw himself as a communicator between the techies and the business people and became a Business Analyst at JP Morgan and Chase in London. Lukas has worked in CX (customer experience) for the last 12 years, which included several senior roles at SAP.
Digital portals provide a 'one-stop shop' for customers
After many years working for software vendors, Lukas wanted to understand the software business from an implementation partner's point of view and so he joined B4B Solutions in April, 2020.
Lukas says, "Founded in 2012, B4B has Cloud in its DNA. Our goal is to become the number one player in the SAP CX partner space. We are proud to be the trusted advisor that really understands B2B CX processes end-to-end. We don't just stop at streamlining and improving the order-to-cash process. We provide a 'one-stop shop' service and create customer and service portals where the customers of our customer can have one entry point into the brand, for whatever they're looking for and whatever they need".
Digital customer and service portals are becoming popular with B2B customers. This is because it enables businesses to provide support for their end customers' sales and service needs. Portals are more convenient for the end customer as they can access them at any time, from any device. Instead of having to go to different URLs or use a variety of apps, they can visit one place to get hold of product manuals, order spare parts, get advice from technicians and book service appointments. Portals take the headache out of engaging with the organization by integrating and streamlining the entire customer journey, including all the aftersales activities.
B4B Solutions finds that a customer and service portal creates a win-win situation for their customers, their customers' customers as well as partners across multiple touchpoints. They are becoming popular in the manufacturing industry, and in mechanical and plant engineering, where product configurations can be complex and customer journeys and processes are traditionally manual and inefficient. The digitalization of customer processes in a B2B portal can help to increase customer loyalty and reduce churn.
B4B Solutions provides international expertise through the United VARs alliance
The organization became a United VARs member in 2016, as a result of joining the All for One Group, which is one of the founding members of the United VARs global alliance. Being a United VARs implementation member enables B4B to provide SAP CX deployments and services and local expertise in all of the countries that their international customers operate in.
B4B Solutions is a key player in the United VARs CX COE (Center of Excellence), which Lukas describes as "A wonderful community of like-minded people across the globe where we can connect, help each other and discuss the good, the bad and the ugly! In the COE, we discuss topics that are near and dear to the hearts of our customers. We then enter fruitful conversations with SAP about the most frequent customer requests leveraging feedback collected from United VARs customers across the world. As a result, we help to continually improve the SAP CX solution stack and even influence SAP CX roadmaps".
SMEs starting their CX journey should think big and start small
B4B Solutions encourages its customers to look at the customer experience across the various touchpoints along the entire lead-to-cash process. Lukas says, "We don't encourage our SME (Small and Midsize Enterprise) customers to take a big bang approach and do everything at once, but we do encourage people to face the bigger picture because it will come around at a later stage.
"When starting a CX journey it's best to think big and start small because it's so important to make the first step and learn as you go along. Make sure that you have the vision in place, and we are here to help you to create that. A vision of a seamless customer experience that sets our customers apart from the competition".
About United VARs
United VARs is a global alliance of SAP solution providers for the mid-market. With over 70 members in 100 countries, the alliance serves all types of SAP rollouts and integrations across the world.
About B4B Solutions
B4B Solutions is an innovative IT service company within the All for One Group. Their mission is to support companies on their way to digital transformation using state-of-the-art cloud software solutions.