Alexander Gallmetzer is CEO of Derga Consulting, the United VARs member for Italy. Founded in 1996, Derga provides consulting and specialist services based on the main SAP solutions and is a leader in the most innovative SAP technologies, including ERP, Business Analytics, CX solutions and concepts, IoT and MES solutions for Industry 4.0 Factory, Machine Learning, and Predictive Analytics.
Alexander lives in Bolzano, Northern Italy, with his children. Before founding Derga Consulting, Alexander was a skiing professional. He moved away from the world of skiing to study economics at the University of Trento. Alexander now enjoys a hobby far less likely to result in injuries – collecting Alpine art.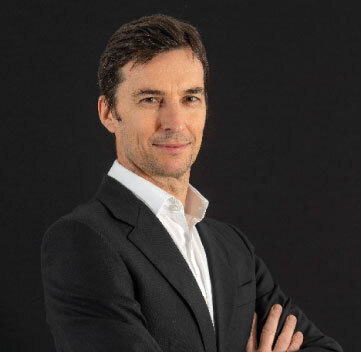 After finishing university, Alexander joined a small strategy consulting firm based in Austria and Germany. During his time working there as a junior consultant, SAP expanded its market to include mid-sized companies. Alexander and a local System Integrator spotted a unique opportunity to bring the portfolio of SAP products to the Italian market, which has a healthy number of mid-sized companies.
Evolving with the market
Derga Consulting is now one of the most important sales and service companies in Italy. The company is an SAP Platinum Partner and has been awarded SAP Partner of the Year several times – such as 2021.
Always looking for new opportunities to prepare the company for future growth and success, they are keen to develop more of their own software and gradually shift from a purely service-based company to one with a much greater focus on developing software. As an example, Derga has developed IP for trading or dynamic pricing which they have been successfully trialling on their own projects, with plans to certify and register this for distribution via the SAP app store and the United VARs Catalogue.
Alexander predicts, "The increasing predominance of the Cloud means a reduction in the demands for service-based business, but an increase in demands for new software. The development of the Cloud will lead us all to become software houses eventually".
Derga is the only company worldwide that has a Vistex certification. Vistex addresses complex processes, specifically price, vendor, channel, and rights and royalty management. This SAP add-on gives businesses a single source of accurate data that provides full visibility on how incentives, pricing, trade promotions and royalty programs are contributing to their top and bottom lines. It is popular in the retail, consumer, and automotive industries and Derga is keen to share its Vistex expertise with other United VARs members.
The United VARs alliance helps Derga serve their customers worldwide
Becoming a member of United VARs enables Derga to service its customers in all the countries they operate in. Regardless of location, their customers now benefit from local expertise and support through the United VARs alliance and get access to a wealth of shared expertise, solutions, and resources for multi-country SAP rollouts.
As well as clear benefits for their customers, being part of United VARs allows Derga to compete with much larger international companies. Alexander says, "It's great that we can sell complex and large-scale projects in our country, but through the global alliance we also have access to customers in over 100 different countries. This opens up new avenues for growth, and as we focus more on selling our own software this will become increasingly important". Being part of a wider collective also gives Derga more leverage when it comes to lobbying SAP for improvements that would better serve their customers.
Despite only joining United VARs recently, in January 2022, Alexander has been pleasantly surprised by the number of opportunities to collaborate with other members and enjoys being part of a wider global community. For those looking to do business in or with Italy, Alexander notes that Italy is a highly creative country, which means there is a lot of variety and complexity in how things get done. This is a cultural aspect that also applies to their fiscal requirements. Derga has the expertise and local knowledge to help international customers to navigate these cultural and procedural differences – always aligning local requirements with kernel needs.
A diverse customer base creates a robust and stable company
Derga provides services and support to over 300 companies across a range of industries, from professional services, consumer products, through to manufacturing, wholesale distribution and the food industry. The diversity of their business portfolio means the company has been able to weather the storm which has affected many businesses in recent years, remaining robust and stable.
Alexander says, "There are continuous challenges and changes due to energy prices and constraints in the supply chain. We see some industries really struggling. The fashion industry is an obvious example here in Italy. Russia is a very important country for our luxury clothing exports, and we cannot supply to Russia right now. Many shops have had to shut down completely".
Derga is an agile business and has pivoted to serve more of the industries that are still growing. Having successfully navigated several years of significant challenges, and with their focus on digital transformation which will remain relevant and in demand, Alexander is understandably optimistic about Derga's future.
About United VARs
United VARs is a global alliance of SAP solution providers for the mid-market. With over 70 members in 100 countries, the alliance serves all types of SAP rollouts and integrations across the world.