Caroline Atkinson is the Owner and Director of In Cloud Solutions Ltd, the largest SAP Business ByDesign specialist in the UK. She started the company during a recession in 2012 with Liz Matraves who was her colleague for many years on the SAP Business ByDesign presales team and is In Cloud's Consulting Director.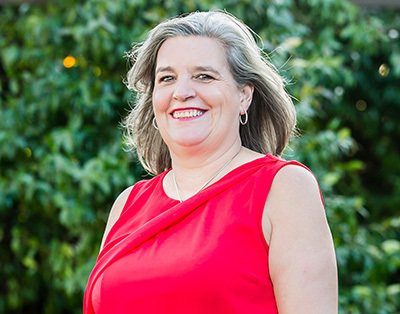 Caroline lives in the pretty village of Wargrave, in the South of England, with husband Bob, In Cloud's CEO, and their four children, aged 18-22. Caroline likes to keep busy; in her spare time she is a Scout leader and has just started to learn the saxophone. Caroline started her technology career as a programmer at Siemens in the late 1980s.

She worked on the Siemens R2 project from 1992, so she has been in the SAP ERP world for a long time. When Caroline and Liz and started the company, there were only six SAP Business ByDesign partners. This is because it had been a separate business unit within SAP and was only just starting to move to an indirect model.
They recognised that if an SAP ByDesign partner knew the product well, was capable and had customers at its core there was a lot of opportunity in the market. So, they left SAP to start up In Cloud and became an EBM partner with 2E2. Once they had six months of financial information, In Cloud then became an SAP VAR.
It wasn't long before Caroline recognised they needed more operational support, which is when her husband Bob joined the team as CEO. Bob recognised the importance of the United VARs network, which In Cloud was accepted into because of their vast experience in SAP Business ByDesign and commitment to excellence, partnership, honesty and transparency.
In Cloud's CEO, Bob Atkinson, says, "Working as an implementation partner with other United VARs members has been really worthwhile to us at In Cloud Solutions. Take Sofigate for instance, who is the United VARs member for Finland. They have a great sales engine and want to extend their SAP Cloud ERP footprint in all its guises. So, we have worked with them to help fulfil their projects because we have the implementation expertise and certifications that SAP are now demanding in this area. By sharing skills in this way, United VARs members like Sofigate don't have to keep team members on the bench waiting to win strategic projects".
Caroline adds, "I refer to United VARs members as 'glocal' because they are both global and local at the same time. We are part of this amazing network of 50+ partners in over 100 countries. We can call on people wherever our customers are and there will be a great quality SAP partner local to them".
A key value for In Cloud is partnership working. Caroline says, "We foster teamwork wherever we can. Accountability is key, and we're all in this together, there's no need for siloes. When you buy from In Cloud, you have a local partner looking after you, you get a one-to-one dedicated relationship whereas a lot of the big global partners can't offer that".
"Right from the start, we've always hired people rather than contracting. What that means is we deliver a more rounded experience to our customers. It becomes a true partnership, and our customers know that the experts involved in 'go live' are still working in the background for them on support and so on. Along with partnership, passion for what we do is paramount at In Cloud. Because without passion it's not worth it".
In Cloud has some specialist SAP ByDesign extensions developed in conjunction with their customers. Their Royalty Management for SAP Business ByDesign is good for any industry which needs to distribute royalties across multiple parties such as gaming, music and pharmaceutical drugs. The Intrastat extension, which they also sell through a lot of other United VARs partners, is included on SAP's Business ByDesign roadmap.
This year, Caroline wants to extend their focus to the construction and engineering markets because, "I expect them to be growth markets over the coming years, as we need to spend money on construction to build our economies back up". She predicts that the cloud market will go from strength to strength. "Cloud is a no-brainer now, which is great when you have a company that only sells cloud! I just see that it will keep growing. Why would you want to make a massive upfront expense? I also expect that companies will start asking for services to be included in the monthly fee to spread the cost for the organization".
About In Cloud Solutions
InCloud Solutions is part of the Sapphire Systems group of companies is the largest SAP ByDesign partner in the UK. It was founded in 2012 by Liz Matraves and Caroline Atkinson, who were involved at SAP in the original development of the ByDesign solution. With 20 consultants and a team of in-house developers, In Cloud is able to customise their own add-ons, and SAP Business ByDesign, to any company's specific needs.
As a valued member of United VARS, In Cloud has worked on some of the most complex worldwide implementations. It has a wide range of offerings in the United VARs catalogue including: Royalties Billing, CUB Contract Utilities Billing, Enhanced Human Resources, Projects Manufacturing, Intrastat, and various data uploaders.
About United VARs
United VARs is certified with the highest SAP status as Platinum Partner and forms an alliance of leading IT solution providers in approximately 100 countries to guarantee the best service and support for your international SAP implementations, ERP optimization projects, and cross-border nearshoring. Are you planning a global SAP rollout? Watch the United VARs video