Jörgen Aronsson is the CEO and Co-founder of Implema Solutions, the United VARs member for Sweden. Implema is one of the founding members of the United VARs global alliance, and specializes in SAP S/4HANA, RISE with SAP , SAP Analytics Cloud and SAP BW/4HANA. The company is keen to develop more of their own IP, so is also focusing on SAP BTP (Business Technology Platform).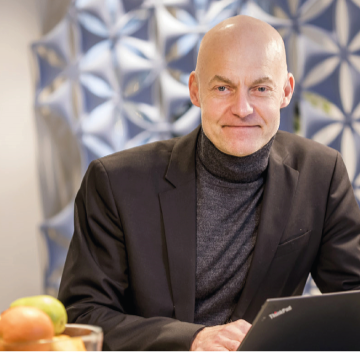 Jörgen lives in Stockholm, Sweden with his wife and two of his three boys, as his eldest son has moved out and lives in Falun. The whole family loves sports, especially floorball which is a Swedish version of indoor hockey. In his spare time, Jörgen enjoys running and skiing. He also likes to travel, and Vietnam is one of his favorite countries that he's visited so far.

After studying industrial engineering and management at university, Jörgen started working at SAP, which at the time only employed around 40 people in Sweden. He liked the combination of business and technology but felt that some of the ERP projects went on too long and cost too much. Some of his colleagues agreed with him and thought that together they could do things better.
Setting up Implema to deliver SAP ERP projects more efficiently
Jörgen and three of his colleagues set up Implema in 2001, and worked out how to implement SAP ERP projects in accelerated timeframes of between eight and sixteen weeks. This has given them a solid foundation for implementing SAP S/4HANA, the 'Intelligent ERP' system, in a very efficient way.
Jörgen says of the Implema approach, "How we do projects is a lot more than templates and methods. It's also a mindset, which our whole company is built upon. Our approach is to start from Day One with the best practices within the new system, instead of asking the customer what they want, as we've found this just results in a list of functions that aren't necessarily the best way to do things. We also focus on time and have an agile sprint way of working. We concentrate on the critical elements first and use the SAP Activate tools to speed up the process".
The organization has its own in-house training program for consultants which more than 100 employees have gone through so far. Implema is actively recruiting and plans to onboard another 20 trainee consultants by this summer.
Joining United VARs to support subsidiaries with global SAP rollouts
Implema was one of the founding members of United VARs, back in 2006. One of the main reasons for setting up the global alliance of top SAP Partners was because they had a lot of Swedish customers with subsidiaries across the world. They could see the advantage of creating an international network to offer members localized support, collaboration on SAP rollouts and in-depth local knowledge in different countries, all at competitive local rates.
"This is a very strong proposition and enables us to compete against the bigger consulting companies", Jörgen says, "As well as collaborating on roll-outs and roll-ins, we've also started to share knowledge more between the members. SAP has a lot of new technologies and it's great to help each other shorten the learning curve and share our experiences and ideas".
Helping the mid-market understand the benefits of Machine Learning
Jörgen and his team are on a mission to help their customers understand and benefit from powerful, advanced technologies. The mid-market has been slower to adopt Machine Learning and RPA (Robotic Process Automation) than larger enterprise customers, possibly due to a misconception that only larger companies can take advantage of the efficiencies and innovation they offer.
Jörgen says, "We're on a journey with our customers to bring to life what these advanced technologies can do. This is a big focus for us over the next few years. We like to give them specific examples of how we're using intelligent technology so they can better understand what's possible for them.
"An example from our own business is how we used Machine Learning to help us on a sustainability project. We needed to go through all of our travel reports, as that's the main impact we have on the climate. But our data wasn't structured in the right way for us to do this easily. We had around 50,000 travel expense reports but wanted to identify whether they were flights, train, car or a mixture. We put in algorithm which learned from 1,000 travel and could then go through all our history. In a couple of hours, we had the information we needed. The old way would have been to go through all 50,000 entries manually, add an extra field and classify everything. That would have taken a huge amount of time and resource".
Cloud ERP involves change management
Over the last few years, Cloud technology has gone from strength to strength in the Swedish SME market. This has been driven, as in many other countries, by the rise in home-working and the increasing need for remote collaboration. Jörgen has noticed that there is a greater awareness that organizations can build more easily onto Cloud technologies and will automatically get all future upgrades and innovations.
When considering a Cloud ERP rollout, what advice can he give SMEs? "It's important to understand that a roll-out is about change management as well as the technology. We can learn to involve the different countries or subsidiaries at the beginning of the process, rather than only at the later stages. It doesn't mean that you have every person decide what the template should look like. But it's crucial to give the end-user a view early on and then take them on the journey with you".
About United VARs
United VARs is a global alliance of SAP solution providers for the midmarket. With over 70 members in 100 countries, the alliance serves all types of SAP rollouts and integrations across the world.