Javier Navarro is Partner and Director for the Americas at Seidor, the United VARs member for Latin America. Seidor is one of the founding members of the United VARs global alliance and an SAP Platinum Partner. Founded in 1982, Seidor specializes in digital transformation and offers a wide range of SAP solutions, including ERP, HXM, Ariba and CX.

Originally from Argentina, Javier now lives in Barcelona with his wife and two daughters. In his spare time, he makes the most of Barcelona's outdoor spaces by riding his bike on the mountain slopes, and running on the beach.
Seidor has ambitious growth plans in LATAM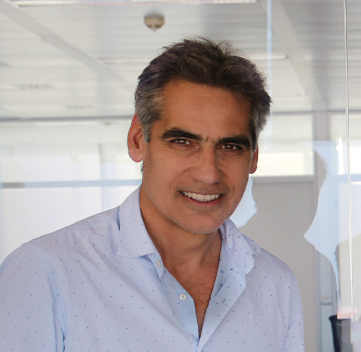 After finishing his engineering degree in the Nineties, Javier became interested in how technology can help businesses to run better by optimizing business processes. After several roles at technology companies, Javier joined Seidor in 2009. The organization is focused on helping mid-market customers move to the business transformation service, RISE with SAP, and on implementing SAP S/4HANA Intelligent ERP solutions.

Javier has been working closely with Seidor's senior management and shareholders to expand the business within Latin America. Seidor currently provides 80% of the SAP portfolio in Latin America and is the biggest SAP Partner in the region, covering twelve key countries which include Argentina, Brazil, Chile, and Mexico. The company continues to be in a growth phase with ambitious plans to double its size in the next five years.
SMEs see Seidor and United VARs as a great choice for SAP global roll-outs
In 2006, Seidor became one of the founding members of the United VARs. Javier highlights some of the benefits of being a member of the alliance as having more visibility and influence with SAP, improving their ability to facilitate global roll-outs, and sharing expert knowledge and best practices within the member community.
Managing a global roll-out can be a complex process. In the LATAM region there are various tax, reporting and other legal requirements which vary from country to country. Having local SAP experts who all have a deep understanding of these is invaluable to any global rollout.
Javier says, "Thanks to the United VARs global alliance, Seidor LATAM is seen as a great choice for SME customers with SAP global roll-out projects. This has played a major role in our expansion into Latin America because there's a significant number of headquarters based in Europe and the US, and in most cases, these companies have subsidiaries in Latin America.
"The United VARs alliance makes it possible for us to do some proper benchmarking, and compare our business practices with other members of the community. All of whom are the top SAP Partners in their respective countries. We leverage the best of all of us, which in turn benefits our customers tremendously. Projects are coordinated in such a way that United VARs members focus on overcoming obstacles and finding solutions together before presenting these to their customers".
Helping customers navigate cultural and regulatory differences
The Latin American market is a very active region and the SME market is buoyant. The region encompasses a wide diversity of cultures. For example, the two largest countries in the region, Argentina and Brazil, are neighbours but have completely different cultures. Javier sees one of Seidor's key roles in global rollouts is to help their customers navigate these cultural and regulatory differences.
Javier states, "We focus on staying close to what our customers need, and from there we invest in and develop the most appropriate solutions. We've created our own bespoke IP to meet our customers' needs better and to adapt core SAP systems to the unique needs and requirements of each LATAM country we specialize in. Seidor recognizes that our customer base is our most important asset and their needs are always evolving, so we must continually evolve our products and services accordingly".
About United VARs
United VARs is a global alliance of SAP solution providers for the mid-market. With over 70 members in 100 countries, the alliance serves all types of SAP rollouts and integrations across the world.
About Seidor
Seidor is a technology consultancy that offers a comprehensive portfolio of solutions and services in innovation, customer experience, ERP, analytics, employee experience, cloud, workplace and cybersecurity, designed to help organisations overcome their challenges and achieve their goals.