Tracy Zhou is the founder and CEO of Acloudear, an SAP Cloud specialist and the United VARs member for China. With offices in Beijing, Shanghai, Shenzhen and Hongkong. Acloudear provides digital transformation services and SAP Cloud technologies to both Chinese and international customers. In 2020, the company received the prestigious Pinnacle Award for 'SAP Cloud Partner of the Year- Small and Midsize Companies'.
Tracy lives in Shanghai near her mother and extended family. She enjoys travelling —a passion that started when many of her contemporaries in mainland China didn't have much contact with other countries. Her favourite places to visit are Hong Kong, Malaysia and Singapore.
A keen runner, Tracy has completed several marathons. She also enjoys dance, especially salsa and freestyle, and has recently taken up the English game of squash.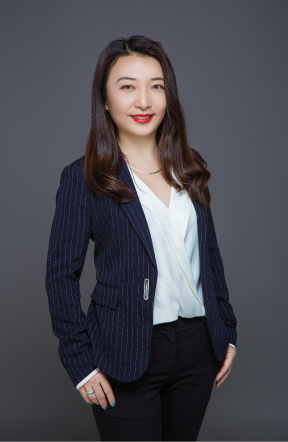 Tracy Zhou, founder and CEO of Acloudear
The world starts moving to the Cloud
After working in finance roles for several companies, in 1998 Tracy joined leading Benelux business software organization, Exact Software. This fast-tracked her career progression as their Global CEO noticed Tracy's potential and her experience in global business. She eventually became the regional sales head for 11 of their subsidiaries in Asia-Pacific.
Tracy says, "I enjoyed collaborating with the European teams and had already gained a lot of experience in global business. It was 2011, and the world was noticeably starting to move to the Cloud. I was really interested in running a Cloud business. So I joined a few companies, including a Supply Chain Cloud business, to get an in-depth understanding of the Cloud market".
Specialising in SAP Cloud systems
After graduating with an EMBA from the top business school in APAC, CEIBS (China European International Business School), Tracy saw SAP's focus was also changing to Cloud and she knew the time was right to set up an SAP business. In 2014, she started Cloudera Limited from Hong Kong and two years' later set up Acloudear in Mainland China. At that time, SAP didn't have any data centres in Mainland China, and Cloud adoption was much slower than in other parts of the world.
Tracy says, "There was so much more on-premise business in China but I didn't want to focus on that. I spotted the longer-term opportunity of specialising in SAP Cloud systems. I think it's important to innovate. To start something where we can deliver value to the market much earlier than everyone else".
Focusing on SAP Business ByDesign and SAP Cloud ERP packages
Acloudear has a strong focus on SAP Business ByDesign as the preferred second tier solution for global SAP ERP implementations. The company also implements SAP S/4HANA, SAP SuccessFactors and SAP CX solutions, including a range of extensions and SAP Qualified Partner Packages to enable growing companies to accelerate their digital transformation for a fixed scope and price.
"The reason we have so many extensions is because we realized that many customers need to have one single contact point instead of having to deal with multiple providers. We deliver all the new cloud products which SAP has, along with RISE with SAP, and we also have a dedicated team to provide the packaged solutions and to really build our own IP on SAP BTP. So, we are one of the few SAP specialists in China who can really carry the package solutions to customers".
The benefits of being in the United VARs alliance
Acloudear joined the United VARs alliance five years ago to improve the service they can provide to international customers. When transforming their business systems, it is challenging for global organizations to understand and comply with specific laws in each country they operate in.
Tracy explains the advantage that being in the United VARs network provides, "Along with the fifty or so members of the United VARs network, we are able to give our global customers local expertise for their SAP implementations and support in over 90 countries.
"They get the in-depth knowledge of each country's legislative and regulatory requirements and they don't have to deal with multiple providers. We work with other United VARs members as one team and share our knowledge. This is a big advantage against competitors and other SAP partners in the local markets".
About Acloudear
Acloudear is a leading SAP Cloud solutions provider in Chinese market, providing strategic planning and consulting implementation services for growth enterprises. The company has a strong capability to deliver a high quality service, particularly in SAP Business ByDesign as a second tier solution in global level to international customers.